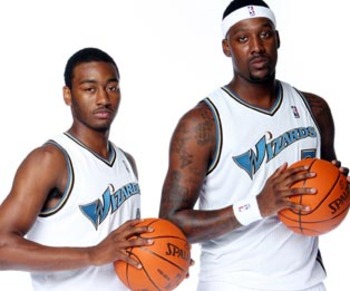 A winning recipe can't have one good ingredient and one bad.
2 down, 64 to go. 
Unless, of course, the Wizards make a playoff run and then in that…ok I'll stop. 
It's no secret that the Wizards are going to struggle mightily this year- and there is literally nothing you can take from games 1 or 2 that could help you argue the contrary.
The team, as most expected, has look outmatched in nearly every facet of the game.  To no one's surprise they've struggled in the half-court, haven't played much defense and JaVale McGee and Andray Blatche look like they blackout on every other possession.
But yet what I believe should strike the most fear into Wizards' fans is how bad John Wall has looked.  
And not so much that you should worry about his play NOW (he's 20 years old and still has plenty of time to get better), but could there be a reason to be at least a little concerned about this big "jump" in his game that so many are expecting not happening for awhile?
I know I'm at least a little concerned. And it has very little to do with Wall himself.  Instead, naturally, it has to do with the players around him. 
After drafting Wall, the Wizards plan has more-or-less been to develop the youth and talent around him- and surround him with uber athletic players to help run the floor with him- basically finding guys with skill-sets that can potentially maximize Wall's.
Could it be that this plan is already starting to backfire? 
A young, elite PG can turn around a franchise.  But one could also argue that they need to be handled as delicately as any position in all of professional sports.  It's why I have this bad feeling that the uptempo, athletic, and horribly low basketball-IQ filled roster the Wizards currently employ could actually prevent Wall from making the so-called "jump" the franchise needs him to make instead of helping him make it.
In some ways a point guard is like the quarterback of a football team.  If your team drafted a franchise quarterback first overall and he came with a rocket arm- would you want the rest of the offense to be made up of track star wide receivers who just ran go routes every play? How much better would that quarterback get?  He'd have a natural progression, sure, but it'd take a lot more time. 
Instead, wouldn't a roster full of smart, hard-working players complimenting the franchise QB be a little bit better? 
I understand that the Wizards' management's hands have been somewhat tied when it comes to the roster.  Sometimes it's not always as easy as a silly little bloggers think.  I get that.
And while I don't watch nearly enough film (or any), I'd like to believe I have enough basketball knowledge to know that more times than not it's more important that you be where you're supposed to be on the floor, running the correct plays and playing your position correctly than it is to be able to run fast, jump high and dunk.
If everybody on the roster did those little things, those simple things, just a little bit better- how much better would John Wall look right now?
Two comparisons thrown around when talking about John Wall are Derrick Rose and Rajon Rondo- and I don't think anybody would tell you the comparisons, while optimistic, are that unreasonable. 
But did Chicago go out and fill their roster with speedy slasher type players to help Rose run the floor? 
Or would Rondo be THIS good had he not started with 3 of the best basketball minds in the NBA?
I don't think it's unfair to say that the Wizards current roster is in many ways built for John Wall.  But do you know that I think would be better for John Wall?  A roster built for the WIZARDS.  In my mind, meaning a few less highly-athletic knuckleheads and a few more gritty, hard-working players that understand the game of basketball.  Leave the running to Wall.  Guess what? He's good at it.      
An example? Give me Trevor Booker over Andray Blatche.  Give me Roger Mason, Jr over Jordan Crawford.  Give me Chris Singleton over Rashard Lewis.  Or, in an ideal world, upgrades over each of those guys (except maybe Singleton).  You see superstars becomes superstars (of which the Wizards are going to need at least one more of) when they combine their elite talent with elite knowledge and understanding of the game and how to be great at it. 
One day, and probably sooner rather than later, Wall will make everybody on the court better. 
Until then, who's going to help make him better?