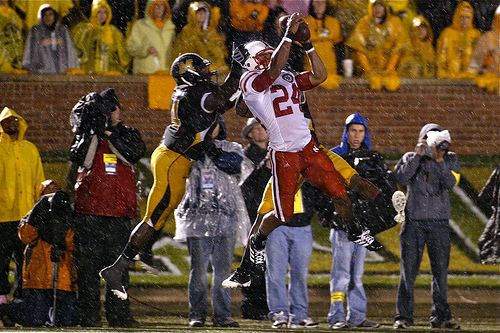 [audio:http://www.ballhogsradio.com/wp-content/uploads/2011/05/BHR-051011-128kNiles-Paul.mp3|titles=051011 Niles Paul Interview]
Below is a partial transcript to get the full audio listen above or download on I-Tunes
BHR: What are your initial thoughts about DC and coming to join the Redskins?
Niles Paul: I feel blessed and honored to be able to come play for coach Shanahan.  It came as a surprise to me.  I did have a conversation with the wide receivers coach at the combine but we were just talking about life in general.  I honestly didn't think the Redskins were interested in me.  But I've always heard it's the team that you think is least interested in you is the one that ends up drafting you.  I'm just happy to have been put in the situation that I am. 
BHR:  What's your style on the field?  What can people expect from you on the field?
Niles Paul: My wide receivers coach always used to describe me as nasty.  I bring a nasty style.  You're going to know I'm out there.  Hopefully I can bring that to the pro level.  On top of that, I can make plays.  I didn't get a lot of opportunities to do it this year, but hopefully I can get a chance to show what I can do in the pros.
BHR:  Would you say you're more of a big-play, downfield threat or a possession receiver?
Niles Paul:  Being at Nebraska, I've been trained to do both since we've had so many different quarterbacks.  When I really stepped into the starting role my junior year, I was a go downfield, make big plays kind of receiver.  That's when we had Zach Lee, who was my quarterback of preference, he trusted me.  He threw it deep and I went and got it for him.  Last year it was more a short passing game.  I think I've been trained to do both.
BHR: You said you've been described as physical and nasty.  Where does that come from?
Niles Paul: That was the way I was raised.  My dad put me in every sport.  He raised me with a mentality to fear no one and play relentless.  I give all the credit to my father on that one.
BHR: You were born and raised in Omaha.  Do you have any special workout stories?  Anything you did special to get this strong?
Niles Paul:  My uncle is Ahman Green and he played for the Green Bay Packers.  He had a very long career.  I used to go to Green Bay every summer in high school and we'd work out together.  When I used to come back after every summer, people noticed the difference.
BHR:  It almost sounds like you play the receiver position like a running back.  Did you learn any of that from Ahman?
Niles Paul:  I've always been a wide receiver.  But I definitely have a running back mentality at times.
BHR:  Give us some dirt on the other teammates that are coming to DC with you?
Niles Paul:  I don't have any dirt on Dijon Gomes.  He's a quiet guy, always around the ball.  But Roy!  We came into Nebraska as freshmen together, we lived in the same dorm. I've known Roy for a long time. He's one of the hardest working guys I know.  But he's also one of the weirdest guys I know.  He's like a human garbage disposal.  He eats so much food!  He brings back 3 or 4 plates a time and he eats it all.
BHR: What was it like facing Prince Amukamara every day in practice? 
Niles Paul: We used to have this discussion on the radio stations in Nebraska all the time.  People who came to practice and actually witnessed it, I served him.  In all seriousness though, we had our battles.  He's one of my best friends, I love him, but I can't wait to play against him.
BHR:  We've asked you to tell us about some of the other guys that are coming to DC, tell us a little bit about Niles Paul
Niles Paul:  I'm definitely a homebody.  I like to stay at home and hang out with my circle of friends.  I love going to the movies.  I think I'm a movie critic, I should get paid. 
BHR: Before we let you guy, we have to test your Redskins knowledge, do a little trivia.
Can you name the three members of the posse?
Niles Paul:  I don't know three of them.  But I'll say Art Monk is one of them.
BHR: On Sundays and you're playing at home.  What's the name of the stadium?
Niles Paul:  I know this answer!  I almost screamed out Memorial Stadium but I forgot I'm not playing in Nebraska anymore.
BHR:  There's a song we sing after point scored.  Do you know the name?
Niles Paul:  Is it Hail to the Redskins?
BHR:  If you were to ever meet the owner of the Redskins, what would you call him?
Niles Paul:  Sir?
BHR:  Close enough.  Good answer.
Niles, we appreciate your time.  Hail to the Redskins.
Niles Paul: Hail to the Redskins!
Category: 2011 Draft, Interviews, Redskins